How can a show that lasted far too long (Pretty Little Liars) have not one, but two spin-offs that only lasted one season, (R.I.P The Perfectionists, I will get to you soon)? This week for Gone Too Soon we are back with another Freeform show, Ravenswood. Like Stitchers, Ravenswood premiered on the network when it still went by ABC Family. 
Ravenswood was a "supernatural" spin-off of Pretty Little Liars that had Caleb (Tyler Blackburn, Rosewell, New Mexico), leaving Rosewood and going to Ravenswood (what is it with these town names?) to help Hanna (Ashley Benson), Aria (Lucy Hale, Katy Keene), Spencer (Troian Bellisario, who was just cast in a new pilot)  and Emily (Shay Mitchell, Dollface, You). He then gets dragged into a mystery involving the devil (or at the very least a demon), a lot of death, ghosts, and reincarnation. Yeah, I really don't know what was going on, but that doesn't mean it didn't deserve better. 
The Gist
Ravenswood had distinct horror vibes, and was meant to have supernatural answers to the mystery, unlike its predecessor that was rooted in the real world. Which was weird mostly because Pretty Little Liars never delved into the supernatural (unless I missed it. At some point I stopped watching, and only tuned in when they promised answers they never delivered.) 
This was a plot heavy show so I'm going to try my best to explain it. Caleb meets Miranda (Nicole Gale Anderson, Make It or Break It) on the bus to Ravenswood. She is going to stay with her uncle who is her last living relative. Caleb is going to help the Liars and meet Hanna. After Hanna meets Miranda she asks Caleb to stay to help her. While in town both Caleb and Miranda find headstones with their names and pictures on them, and vow to discover what they mean. 
Also involved in the mystery are Luke (Brett Dier, Jane the Virgin) and Oliva Matheson (Merritt Patterson, The Royals and Hallmark Movie Regular), twins whose father was recently killed and their mother is the main suspect. Rounding out the main teenagers is Remy Beaumont (Britne Oldford) Luke's girlfriend and show MVP. Seriously without her they would have never tracked down most of the clues.
The show begins with Caleb getting Remy's help to research the tombstones, her family owns the town newspaper, and in the course of her research all five teens end up in together in a car. Miranda sees a ghost and distracts Remy, the driver, and the car goes off the bridge. In the accident Miranda dies. This is all the very first episode.
What ensues is a ghost Miranda that continues to try and solve the mysteries surrounding the group, murder investigations, many attempts on the teenager's lives, deals with the devil and, in case that wasn't enough, reincarnation. I feel like I should reiterate that there were only ten episodes. All of this happened in TEN EPISODES.
Look, Ravenswood was kind of a mess, but wasn't Pretty Little Liars also a mess? I know a lot of people that continued to watch it though it' s nonsensical ending. So why couldn't we have more of the supernatural mess. I enjoyed it, and I know that I'm not the only one. Why must all t.v. shows be good isn't it enough that some of them are just fun, I mean Riverdale is still running, and it rarely makes sense. 
You may be wondering, "Shelby, that show sounds crazy, why should it get another season?" Here's the deal, I don't think that it should. In fact I think that it should live as a one season one wonder. One completely crazy season. It deserved a better ending on Pretty Little Liars, but more on that in "Caution: Cliffhanger". 
Should You Watch It
If you are watching Pretty Little Liars then you should totally take a break during season four when Caleb leaves, and watch Ravenswood. I mean hasn't my description at the very least intrigued you. How can a show fit in that much in only ten episodes? 
Ravenswood also functions as a pretty good palate cleanser between other shows. You can lose yourself in pleasant nonsense for a few hours. It's a lot of fun without any real commitment, and who doesn't want that. In the midst of binging long shows like Grey's Anatomy and Criminal Minds, it's always nice to have something with a lot less commitment.
Also, in case my description of it wasn't enough of a clue, the show is nuts and must be seen to be believed.
Stand Out Moment
I'm partial to the car crash in the first episode of the show. The music really makes the scene memorable. I'm a big Civil Wars fan, so choosing "The One That Got Away" for that moment was perfect. It's a haunting song choice that adds gravity to the scene. It's also a great way to end the first hour of the show.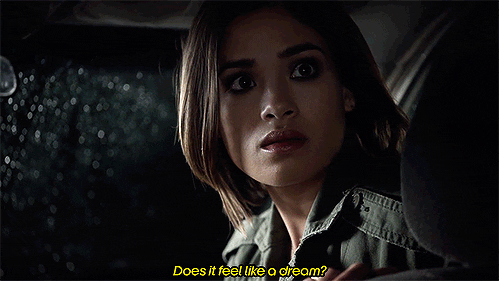 Sunken Ships
There are a couple of ships that didn't sail, so let's start with the easiest one: Remy and Luke. Luke and Remy originally ran in different circles, but Luke always had a crush on her. After the death of Luke's father he became a loner, dropping his popular friends. During this time he begins dating Remy, before the show ever starts. Over the course of the show they have their ups and downs, including Luke kissing another girl, causing them to break up.
Then there's Caleb and Miranda and oh boy, where to start. From what I remember during this time on Pretty Little Liars, Caleb and Hanna (Haleb) were the best couple and Ravenswood not only took Caleb away, but paired him with a new love interest. 
They flirted, Miranda died, and Caleb flirted with her while she was a ghost. Then add in that Caleb was still in love with Hanna, but didn't want to involve her in the insanity that was Ravenswood. Miranda, on the other hand, was completely in love with Caleb the entire time. 
If that's not enough for you Miranda and Caleb are reincarnations of a couple that were in love, but met a tragic end. Miranda leans into the whole past life in love, but Caleb is understandably more hesitant about the whole thing. Talk about complicated.
Caution: Cliffhanger
Honestly this cliffhanger is a bit of a catch-22. On one hand it's kind of confusing and you are left wanting more answers and on the other, answers are kind of given on Pretty Little Liars.  When Caleb returns to Rosewood he tells Hanna what happened after the show ended, so go watch the show, and then come back here to read what happened on Pretty Little Liars.
*Major spoilers ahead*
He tells Hanna that he, Remy, Olivia and Luke took jars with hair of the teens that had died due to the curse to the bridge where Miranda died. They opened them, and the woods filled with fireflies that drifted up into the trees and disappeared and then everything was back to normal… Yeah, I really don't know.
It was a nonsensical answer because in the final episode of Ravenswood Hanna came to town to confront Miranda because she believed that Caleb and Miranda had something going on, which they kind of did, but Miranda was also a ghost. Not the best way to have a relationship. 
In addition to the relationship drama, we finally discovered who killed Luke and Olivia's dad and why he was murdered, he was trying to break the curse. Then on top of the relationship drama and murder solving, a demon (?) named Avadon was introduced. He wanted to kill the teenagers so that the curse would remain intact. He tried to bring Miranda back to life, but was stopped.
Then we see current/ghost Miranda reuniting with past/ghost Caleb in the after-life, and presumably living happily-ever-after. (I know…) The story Caleb tells Hanna doesn't address all of these plot points, although I don't know how you would explain that to someone who wasn't there, nor does it answer my biggest question: Where was past/ghost Miranda? Did past/ghost Caleb not become current Caleb because of reasons? How can the ghosts of the past exist if they have been reincarnated. 
I don't know, but really who cares, it's bonkers.
Where to Watch
Right now you can watch the show on Tubi for free, but you may be able to watch it on HBO Max in the future considering that Pretty Little Liars will be on the new streaming site. The spin-off may join it on there someday. 
Did you watch Ravenswood or Pretty Little Liars? What were your thoughts on this spin-off? Do you wish that it would have gotten another season or at least a better explanation on Pretty Little Liars? Don't forget to check out these other shows gone too soon: Daybreak, Eye Candy and iZombie.