Welcome to A-Z Movie Reviews. Every Sunday, for the next several months, I will be posting a review of a film in my home movie collection. How it works is, I will be reviewing movies in alphabetical order until I get to the letter Z (Yes, I do have a film that ends in Z). Now I realize there are many ways to alphabetize a film collection but this is mine so don't judge me. This is simply for fun.
---
Before I start this week's review I have to say, I do not know why it took me so long to watch a film with Timothee Chalamet. He is a delight onscreen and I fell so in love with him while watching Call Me By Your Name.
What it's about:
In 1980s Italy, romance blossoms between a seventeen-year-old student and the older man hired as his father's research assistant.
Call Me By Your Name based on the book by Andre Aciman and directed by Luca Guadagnino is by far one of the most beautiful love stories about a same sex couple that I have seen since Blue Is The Warmest Color.
The thing that I love most about Luca Guadagnino's films is his ability to transport you right into the world the story takes place in. He always makes sure to use the locations as a character of their own and he finds ways to make everything stand out but not so much that it takes away from the actors.
Speaking of actors, this entire cast was just wonderful.
I loved everyone but as I said earlier, Timothee Chalamet really took my heart. From the moment he stepped on screen and flashed that beautiful smile, I was taken. I have not read the book yet but, I just know he brought something special to his character Elio. I was so impressed with his ability to convey two sides of himself. On the one hand, he had this sexy yet tender masculinity with Marzia and then on the other, he became this vulnerable self-conscious young man when he was with Oliver (Armie Hammer).
Armie Hammer is another actor I enjoy watching on screen. I really loved his portrayal of Oliver. He was fun and carefree but he also had a bit of insecurities of his own. When Oliver and Elio got together, they both brought something out of each other that they were afraid to share with anyone else.
Timothee and Armie's chemistry was unreal and I could not take my eyes off the screen when the two of them were together. There was just such an easiness to their relationship and it was obvious they both really took the time to get to know each other beforehand to make their time filming that much more comfortable.
Luca Guadagnino is known for making long films but I don't mind that at all. He believes in giving us the full authentic story. Watching the build up of Elio and Oliver going from friends to lovers was done in such a real way and I enjoyed every minute. I did not expect to cry watching this movie but I did, several times especially when Elio talks to his father (Michael Stuhlbarg). That scene was super emotional and the words were intensely real and beautiful and just…I have so many feels about that scene.
Call Me By Your Name is a beautiful and honest love story that will stay with you even after the credits have rolled. At least it did for me.
Other Thoughts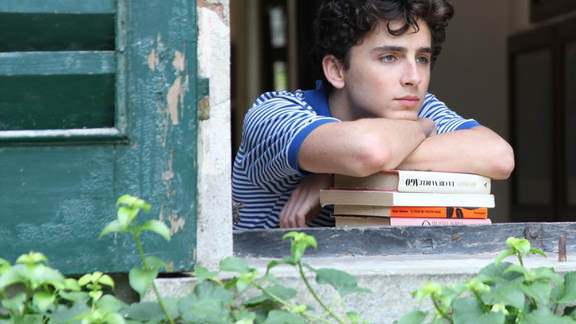 I have just become a new fan of Timothee Chalamet
Listening to Timothee speak Italian was one of my favorite things about this movie.
Listen, I don't care how much I like a guy, I WILL NOT put his dirty ass shorts on my head to sniff them.
I loved Marzia (Esther Garrel) and Elio together and I was so glad that they both still wanted to be in each others lives as friends.
That first kiss between Elio and Oliver… LORDT!!!
I loved the way Luca Guadagnino shot Elio and Oliver's first time together because it was so playful and full of real nerves and it was so honest.
I LOVED Elios parents SOOOOOOOO much!
I said it earlier but Elios conversation with his dad! that moment hit me hard! so beautifully done. Also, was he confessing to Elio about his own sexual orientation because it sure felt that way to me.
Call Me By Your Name is available to stream on Amazon Prime Video.