We all have our favorite and least favorite tropes. From love triangles to slow burns, tropes are often the best ways to showcase great characters and storylines. They can also be frustrating and make you question why it is even a trope at all. In this bi-weekly column, we'll take a deep dive into some of the most classic television tropes.
I write a lot about impactful moments on television. From when the hero finally defeats the villain to when a slow-burn relationship finally gets together. It's these seconds or minutes that leave a lasting impact on viewers, making them glad they decided to tune in.
One of the simpler moments that are almost, if not more meaningful is when two characters share a kiss for the first time. While a hero can defeat a villain many times over, a first kiss can happen only once per couple so when it does, you have to cherish it for better or worse. It's because of this that first kisses have a special place in my heart. They're scenes I love to revisit because they give me a chance to compare where a character used to be and where they ended up.
When Joey and Pacey kissed for the first time in Dawson's Creek, they were just kids trying to figure out their growing feelings for one another. They had no idea the journey they would have in front of them and all the push back they would receive for even daring to date one another. All they cared about was each other at that moment. All their worries just faded away which is what a kiss is supposed to do.
You know a writer truly cares when they spend time building up and pulling off these moments. It doesn't even have to be super dramatic. It can be a quiet, New Year's kiss like the one Mulder and Scully shared after multiple seasons of The X Files.
Some of the most unexpected first kisses are the best ones. In fact, any kiss in which one half of the couple is surprised that the other half would ever do such a thing remains one of the best ways to pull off this trope. Nathan surprising Haley with a kiss outside her bedroom window at the crack of dawn? An iconic One Tree Hill moment.
I love Nathan and Haley for many reasons. One reason is that it didn't take forever for them to realize their feelings for each other and make a move. Often I find myself wishing that more couples were as bold as Naley and didn't wait so long for a simple first kiss. I'd even go so far as to say that the sooner the better when it comes to first kisses. This way, writers aren't gaslighting viewers for seasons, thinking they're crazy for wanting two characters to kiss. I've touched on this topic in my article on will they or won't they couples so I won't beat a dead horse.
Even though it took a few seasons, there is another surprise kiss that has always stood out to me. Despite being undercover as a married couple, Deeks couldn't help but be surprised when Kensi locked lips with him. While this NCIS: Los Angeles couple has faced many surprises throughout the years, this one will forever stick with me. The look on Deek's face truly says it all.
First kisses I also love to see are ones that happen because a character thinks one or both of them are about to die.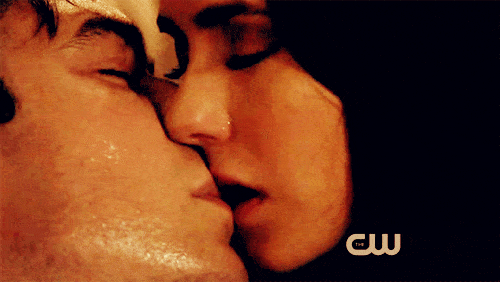 Damon and Elena's deathbed kiss from The Vampire Diaries will forever remain as one of the best scenes in television history. I remember watching that episode live and my heart literally melted. While many will say Elena only kissed Damon because she knew that it was the one thing he wanted before dying, I'd dare to claim that it was also something she desired all along and didn't want to miss out on her chance. Not only did she want to grant Damon's dying wish, but hers as well.
Another perfect example of a near-death first kiss is Chuck and Sarah from Chuck. This also is one of my all-time favorite kisses, do you notice a theme?
Calling it simply a kiss is also kind of a mischaracterization. Their first kiss was a full-on makeout session and I loved every single second of it. While the passion was one of the best parts of this kiss, what really stuck with me was that it wasn't Chuck who initiated it but Sarah. In her last minutes, what Sarah, the supposedly cold-hearted spy, wanted to do more than anything was kiss the dorky intersect.
I suppose death makes you figure out what you want in life. For Elena and Sarah, it's kissing the man they didn't admit they loved.
The funny thing about most of these kisses is it's not like they amounted to really anything. Most of the time, it took another few seasons for these couples to get together after they initially kissed. On the flip side, you could be Jamie and Claire from Outlander and share your first kiss during your wedding.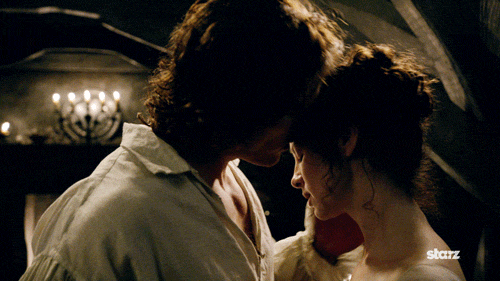 I also think a first kiss truly tests the waters as to whether a couple is compatible or not. If it's meant to be, you can truly see the chemistry flow between the two characters. I'm not a huge Stiles and Lydia fan from Teen Wolf but even my heart stopped when they shared their first kiss. Lydia deciding to kiss Stiles to interrupt his panic attack was brilliant and, for a non-die hard shipper like myself, it showed their potential.
On the contrary, the same can't be said for Scott and Malia from Teen Wolf. We all know that those two only got together because they were the last two single characters left in the series. But this couple became full-on cringe when they shared their first kiss because they had absolutely zero chemistry.
However, no other couple will get me on the verge of throwing up like Izzie and George from Grey's Anatomy. It gives me shivers just thinking about them if I'm going to be completely honest.
Not only did they not work at all as a couple, but their first kiss resulted in an affair. While I also never liked George and Callie together, what he did with Izzie behind Callie's back will forever be one of the worst storylines in Grey's Anatomy. Newsflash: not all male and female friendships have to turn romantic! They can be just friends!
While I could go off about some cringy first kisses, I'd rather spend my time appreciating all the good ones out there, and there are plenty. From Matthew and Diana's first kiss in A Discovery of Witches to Clarke and Lexa's kiss in The 100, there is a gold mine filled with epic first kisses. I could go list them all out but I'd rather hear what your favorite first kisses are. Let me know in the comments below!