Most of us are stuck inside right now. My county has issued a shelter-at-home mandate, which means I'm not leaving the house unless I have to go to the grocery store or the doctor. This doesn't disrupt my life too much as I work from home, but my extroverted side is pretty bummed.
I've always escaped into film as a balm to the stresses of everyday life. Right now is no different. Here are 10 of my favorite "comfort" movies that you can stream on Netflix right now.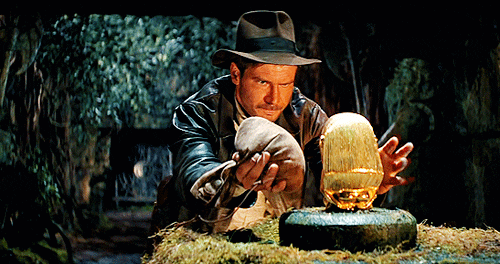 Indiana Jones and the Raiders of the Lost Ark
While I love all of the Indiana Jones films, I think Raiders is my favorite. I love the action sequences, never cease to crack up at the (in)famous "sword fight," and adore the visual aesthetic. For me, Raiders is infinitely re-watchable, but you can also watch all of the other Indiana Jones films on Netflix right now too!
Hitch
Hitch holds a special place in my heart, largely because it helped me recognize my own fears about falling in love. I was inspired to put myself out there more with the guy I liked, who is now my husband of almost nine years. For that reason, Hitch is a comfort movie for me.
I watched it again for the first time in a while last week and I still crack up at Kevin James' antics as Albert Brennaman. The jokes still land, and my heart is still warmed at the end. Cue this up for a sweet stay-at-home date night.
Spider-Man: Into the Spider-Verse
I do not say this lightly–Spider-Man: Into the Spider-Verse is the best superhero film ever made. I give it this title because it is a film that truly understands what it means to be a hero, to be brave, to have courage, and to always get back up again. This is a film that I love so much that I saw it 4 times in the theater.
There are 4 different places in the film where I ugly cry every time because they hit me in the feels. I always feel a bit more courageous after watching this film, and I think we could all use that right now.
Monty Python and the Holy Grail
Confession: I didn't like Monty Python and the Holy Grail very much the first time I saw it. Now I have been known to put it on repeat. Its screwball humor, bad puns, and sheer absurdity still send me into fits of giggles. A good laugh is good medicine any time, but especially right about now. This is a classic comedy that's hard to beat.
Scott Pilgrim vs. the World
Think Napoleon Dynamite, but add more video games, anime, and rock and roll and you've got Scott Pilgrim vs. the World. Not only does this film pack more sight gags, nerd jokes and references than you can shake a stick at, it's also got a phenomenal cast of comedy and science fiction actors.
Michael Cera, Aubrey Plaza, Chris Evans, Brandon Routh, Mary Elizabeth Winstead, Kieran Culkin, Anna Kendrick, Alison Pill…I could go on. If you've missed this cult favorite before, now's your chance to correct that.
Blade Runner: The Final Cut
There are many different versions of Ridley Scott's science fiction epic, but if you want his preferred cut of the film, The Final Cut is the one you want. While it didn't do well at the box office when it was first released, Blade Runner is now considered perhaps the best science fiction film ever made. I didn't like this one when I first saw it, but I love it now.
What caused me to give it a second chance was what I learned in my modern science fiction class in grad school. Author Phillip K. Dick when he visited the Blade Runner set, which is based on his book, Do Androids Dream of Electric Sheep?, told Scott that the set looked exactly like the world from his head. If you'd like a visual feast and some science fiction history, check out Blade Runner: The Final Cut.
Ferris Bueller's Day Off
A classic from the 80s that still holds up, Ferris Bueller's Day Off is a perfect 80s comedy. Everything about this John Hughes classic keeps me in stitches. If you'd like a trip back to 1986, jump in with this one. Don't forget to watch until the very end. No one likes missing an end credits scene.
Ant-Man and the Wasp
Ant-Man is one of the more underrated Avengers, in my opinion. The first Ant-Man film left me in stitches. The second film was just as funny, if not funnier. I keep coming back to Ant-Man and the Wasp because I love its humor.
I love the dynamic between Hope and Scott. I love Scott's relationship with his daughter. I was especially floored by the fight sequences between Ant-Man, The Wasp, and Ghost. This is one worth revisiting for a light-hearted action comedy.
The Lord of the Rings
I tend to think of all of The Lord of the Rings films as one long story. I've watched and rewatched these films since their release…nearly 20 years ago. The setting, especially the Shire, is so beautiful that it always sets me at ease. With incredible visuals, a moving score, and an all-star cast, this is a story that's worth revisiting. The Two Towers and The Return of the King are both available for streaming on Netflix.
Teenage Mutant NInja Turtles I & II
This final entry is 100% nostalgia on my part. When I was a kid, I was a TMNT obsessive. If you asked me what I wanted to be when I grew up, I would respond, "A Ninja Turtle," which was obviously a thing that could happen. When the live action films came out, I nearly lost my 6 year old mind.
I loved the costumes and puppetry. It made everything so magical. I revisit these films to feel like a kid again and to get a glimpse back into the 90s. If you want something fun, cheesy, or just a trip to the 90s, add these films to your list.
Do you have a favorite comfort movie? Leave a comment and tell us all about it.