When I heard the word Outer Banks, I certainly didn't think of anything but North Carolina. Well, now that has changed. I first watched Outer Banks on Netflix when it premiered in April. Seeing as how it was just announced that we are getting a second season, I figured I would share my thoughts on the first.
ABOUT OUTER BANKS
On the off chance you haven't heard about Outer Banks, I will take a moment to introduce you to the tagline and drop the trailer below.
Outer Banks is a coming of age story that follows a tight-knit group of local teens (the "Pogues") in the beach vacation destination of the Outer Banks of North Carolina. When a hurricane kills the power for the summer season, it sets off a chain of illicit events that force the friends to make life-altering decisions. The search for their ringleader's missing father, forbidden romances, a high-stakes treasure hunt, and the escalating conflict between the Pogues and their rivals turn their summer into one filled with mystery and adventure they'll never forget.
FIRST THOUGHTS
I'm not going to lie. The first time I saw the trailer for Outer Banks, I figured it would be another stupid teen drama that irked me too no end. I was thinking of stupid storylines that grace the shows of Riverdale or Pretty Little Liars. I've watched both shows and they are just ridiculous with their plot lines. Sorry not Sorry.
Well, I finally decided to watch it. I can't say I was wrong about stupid teen drama that irked me but it was so much more. There was TREASURE HUNTING. I was excited! I love a good mystery that actually makes sense and it's about finding treasure.
THE GOOD, THE BAD AND THE UGLY
What I really loved about Outer Banks was the way that the "Pogues" really stuck up for each other. When one of them needed something or support, even for the stupidest of reasons, it was almost done, no questions asked. It's hard to find friendships like that these days.
It also has a really good storyline with keeping the teen drama at a tolerable level for me. Which I appreciate greatly. John B. was dealt a hand that was frankly very shitty and fought for what his father had left for him and what he thought was right.
The treasure hunting aspect kept me very intrigued as well. I didn't really guess anything beforehand which was nice for once. I didn't know what to expect and was kept on the edge of my seat as to what they were going to find.
J.J. and Pope stick together when the rich kids gang up on them repeatedly because they are infiltrating the "figure eight", which is known as the wealthier part of the islands. The rich kids believe that the "Pogues" shouldn't be there because they have no money which clearly means to them they are lesser. J.J. and Pope have a strong bond of friendship that isn't torn apart easily and I admire that.
The whole storyline of people not being able to go to the "figure eight" is so irksome to me. Like, just because we aren't rich and have your privilege we don't get to go somewhere? Don't they know it's a free country? I would have told babies Rafe and Topper to get the fuck over themselves.
Also, when the police were chasing John B., because he supposedly killed Sheriff Peterkin, was so idiotic. Anyone in their right mind would have been able to look at that crime scene and noticed that it was off. Like really?? In short, Sarah has a family full of psychotic killers.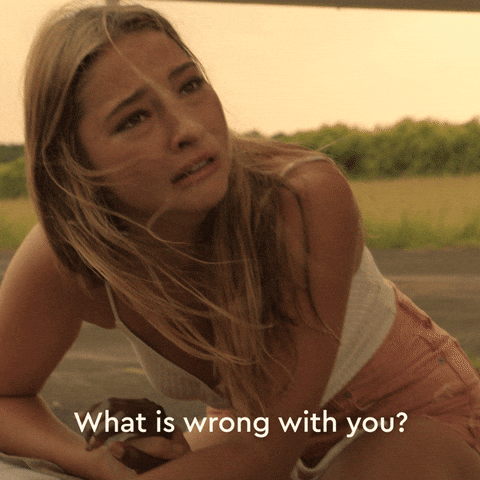 John B. should have gone to the Feds when it was clear that they were assisting the Police. He knew that the Police were compromised but the Feds? Nah man, they could have helped you. You didn't have to run and it would all have turned out okay. I was screaming this at the T.V. by the way.
We end the season with Sarah and John B. picked up as a married couple lost at sea on a boat that is next expected to make port in, you guessed it, the Bahama's. A coincidence? I think not. Just a chance for this elusive treasure and Sarah's father to come back into play.
CAN WE GET A RECOMMENDATION?
Yes. Yes, I recommend this show. It is easily bingeable and I stayed up into the early hours of the morning watching it. That's how hooked on this show I was. It gripped me from the beginning. A lot of shows fail to do that for me nowadays. If you still need something to watch during our year of lockdown and have yet to see Outer Banks, then what are you waiting for? Go. Watch. It.
Sign up for our bi-weekly newsletter here!
Outer Banks is now streaming on Netflix.