The year is so close to ending! It seems unreal that this 2020 only has a few days left, as unreal as the year has been. That means it is time to review everything that 2020 has given us (apart from a pandemic). It is the time to review our favorite ship moments of 2020.
Here we go!
Yes, Arrow ended this 2020, it seems like eons ago, but not a year has passed.
We would not have ended the show in this way, we're much more traditional when it comes to show endings (and we still don't understand that, having a choice, they chose this, but things are as they are) but there is no doubt that the moment in where Oliver and Felicity meet in the afterlife and just live happily ever after is one of our favorites of this 2020.
No one but them deserves all the happiness in the world, after all the shit they went through, fighting Crisis included. Their ending may not be what we would have chosen, but at the end of the day, they are together forever.
We had a hard time choosing between moments for this couple but we chose this one because we think it is so perfect, so human, so unique … Lucifer was totally relieved to see her alive and well and whole and she just … loves him. For a moment in that cell she thought that she would never see him again and she let herself be carried away by what she felt for the first time, in front of everyone. We think it's the first time we see her fully embracing what she feels for Lucifer, without fear, without barriers, with nothing between them … just the union of two hearts.
You have not seen the show yet, but we take advantage of the fact that you have already seen the trailer and one of our favorite scenes of this couple – or a little glimpse of it! We cannot speak too much about the moment, but we will tell you that it is special for us because you can feel that connection, those feelings on the surface. It is a touch, a caress forbidden for so many reasons … but inevitable because when the flame is lit … it burns everything.
Yes, we know this show is not from this year but we LOVE THIS COUPLE. We cannot deny it. Their union goes beyond time. Beyond this life. Beyond themselves. There are many special moments, but we think this one is unique because they finally choose each other. After all the fights, the distance, the decisions made, the disappointments … they finally chose each other, just how they have done countless times since they met, although neither of them was prepared to accept it back then.
We love Upstead, but also Burzek. They have been through so much … sometimes we feel as if there is an ocean that separates them even though they are so close that they can touch each other. They are both afraid to try again because they were really hurt last time but this moment, just them laughing and talking after a hard day, is the beginning of a blank page in their history. An approach, a promise of… more.
This moment. Just this moment. They weren't in their prime. Dev was ashamed of Shane and he made it clear that he wasn't into it, that Dev had to fight for him if he wanted to have him in his life. But Dev left … and Shane knew it was over. But then Dev couldn't stop thinking about Shane and his pain, his disappointed face … and suddenly what he felt was clear, he loved him and everything else could fuck off, so he went to him. He kissed Shane front of everybody, proud of his boyfriend and how he felt about him.
You know what we love about this couple. And it has been difficult to choose just one scene of the two of them, but here it is. We believe that this scene, her words, that kiss … sums up their whole story. Lea was so afraid of spoiling everything with Shaun, so afraid of being happy … that she refused to be happy for a long time but at that moment, just listening to Shaun, knowing that she could lose him and hear him while trying to accept that she didn't feel the same when she did … she just broke. In a moment of danger, in an uncertain situation, no fear mattered anymore, it was time to accept that Shaun was her more.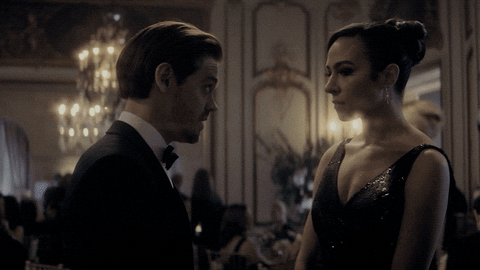 Lately I've been watching this show and these two together have my heart. My favorite moment happens in the last episode of the season. Dani had inexplicably doubted Malcolm but then she sees him. She really sees him so affected, so … broken, so desperate for the confirmation that he is not like his father that she knows…and tells him he isn't. And then she has no more doubts, because she knows that Malcolm would never do something that could remotely confuse him with his father, no matter what.
As with Bridgerton, we will use the trailer to tell you about our favorite scene from this ship. "We're endgame." We are still screaming and jumping with that phrase. It's a difficult moment to forget. After all … there is only how they feel about each other and we first see Nick openly saying how he feels about Sabrina. Until that moment, everything was too real for him and he was really afraid, but it is the first time that he has no doubts. Are they really endgame? Will Harvey have something to say about this?
As with Bridgerton and Chilling Adventures of Sabrina, you have not yet seen what awaits you with this show but we are going to use the trailer for this list. "I'm nothing without Diana." How much pain and how much love in a single sentence. Matthew despises himself and believes that he doesn't deserve someone with as much light as Diana but he loves her, he loves her so much it hurts, he loves her so much that he would live and kill for her, without hesitation. And if he lost her … he just doesn't see himself in a world where she isn't. He couldn't live in a world without her. That is the depth of his love.
What moment and which couple would you add to this list? Don't hesitate to share it with us in the comments below!
All of these shows will be back on our screens soon, with the notable exception of Arrow.