We're back with the second part of our interview with Mike McMahan. Mike had so much to say, we thought it would be best to split the interview into two articles! Here's the second part of our interview with Mike McMahan on Star Trek: Lower Decks.
Big Screen for the Lower Decks
Star Trek is no stranger to the big screen with 13 feature films in the franchise. I asked Mike if it was too soon to think about a feature-length Lower Decks movie. He had this to say about that idea.
"Hell no, I think about Lower Decks movies all the time. We did a mini Lower Decks movie in the first season. We do another Lower Decks movie this season, like a sequel movie, but those are both holodeck movies. I would LOVE to do a big Paramount+ exclusive 2-hour heavy-duty Star Trek: Lower Decks movie.
I just don't know if I'd want it to be in the Wrath of Khan style or to make it more like a TNG era. You know, there are so many options. I love these characters and I'd love to keep doing Star Trek with them, you know what I mean? I like to do movies! I'd love for them to make a Vegas experience! Let's fuckin' do it all!"
A Lower Decks movie? A Lower Decks Vegas Experience?! YES TO ALL! From our lips to God's ears. Here's hoping the good folks at Paramount will read this and give the people what they want!
Star Trek: Lower Decks Action Figures?
Speaking of "give the people what they want," I asked Mike when we'd be getting some Lower Decks action figures. I require a Tendi and Mariner to hang out with my Captain Janeway. I was actually a bit surprised by his answer!
"I just want…let's just get a Tendi action figure! That's all I want, just a Tendi and a Mariner action figure. I mean, I beg for it all the time. I think all of you guys have to beg for it and then that'll speak louder because every time I mention it, everybody at CBS and Paramount is all like, 'Mike we get it, you love Lower Decks…'"
Well, folks at Paramount, consider this my formal request for Lower Decks figures! It's not just Mike that wants them!
Writing Where No Mike McMahan Has Gone Before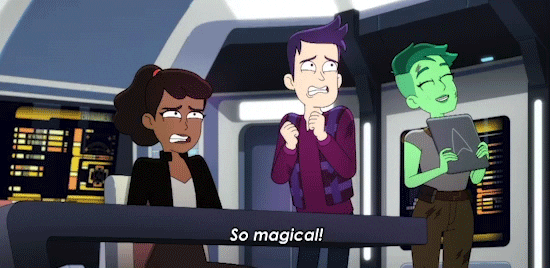 One of the things I enjoyed the most about my conversation with Mike is that I felt like I was talking Trek with a fellow fan, not just one of the showrunners. Mike's approachability and sincere enthusiasm opened the door for me to ask a few outside-the-box questions. I asked Mike which Trek series he would want to write for other than Lower Decks.
"You know, that's hard. There are different parts of me that would like to say TOS. It's like, you're sitting around with some of sci-fi's greats, you know what I mean? They're figuring it out for the first time…and probably smoking and arguing the entire time, which I'm not super into. I think honestly, I feel like I could have killed it on Enterprise. I really like T'Pol.
I think in season 4 [of Lower Decks], we get more of T'Lyn and I get to scratch that itch just a little bit more. I just love Vulcans. For a hot minute, I was kind of, not really pitching, but dangling [this idea] to CBS. You know what I'd love to do? A show where each season, the entire season takes place on a planet we've heard about before so they become less mono-cultural.
So like an entire season is spent on Orion, or an entire season on Kronos, and see what kind of challenge that creates. You know, since Paramount+ is a streamer, it doesn't have to appeal to the entire world. But if it's something that Trek fans would love, I think you get a really amazing Star Trek flavor, a sci-fi personal show out of that."
I definitely would love to see a Star Trek show set on a planet that isn't Earth. Again, Paramount/CBS, give the people what they want! I definitely would love
Star Trek Pipe…or Jefferies Tube Dreams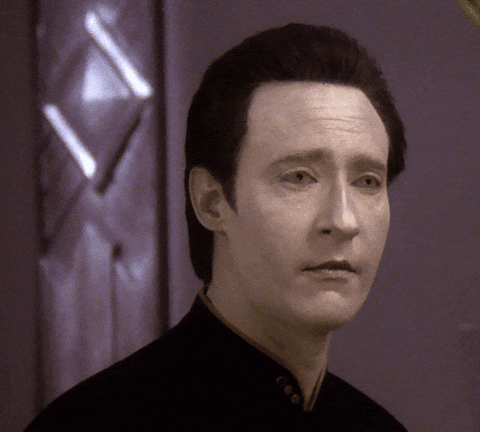 One of the fun things about a franchise like Star Trek is the possibilities really seem kind of endless. Half the fun of talking Trek with your fellow fans is thinking of the "What would you do if…" scenarios. I asked Mike which non-Lower Decks character he'd like to write for. I wasn't too surprised by his answer, but I love what he had to say.
"Oh man, you know, I think that it's gotta be Data at this point. Like, I just love Geordi and Data so much. And the way Spiner plays Data and just is sort of like the "Less-is-more Data." That's what's so charming about him. He's like so capable, but so childlike, but so Starfleet. Like before, I'd have said an exocomp. But now I've done that [Peanut Hamper]. But yeah, I think Data would be the big one, but the trouble being of course that Nemesis kind of made that a little more difficult."
Mike McMahan…IN SPACE!
I think it's safe to say that if you're a Star Trek fan, you've imagined yourself on your favorite ship. Facts: If you haven't thought about this, you're lying. I put the question to Mike–if he were on the Cerritos, where would he work?
"I'd be in Cetacean Ops. I'd be hanging out with Kimolu and Matt. Those guys know how to party; it's like really chill in there. You walk in there and the humidity changes. It just feels really fresh. That's a saltwater pool, you know what I'm saying? Stellar navigation, there's not much for me to do.
Everybody's coming in there to go swimming, like, that would probably be my spot. It sucks that you don't get to have a window. I'd love to see the little rainbow star trails going by. But you know, there's always the Cerritos bar, the mess hall, or your quarters that you could be in for that kind of stuff too."
I love that answer. And for the record, as much as I'd like to be a ship's counselor, or be on the bridge, I'm quite certain that I'd be the bartender on the Cerritos. I enjoy making a good cocktail and having good conversations. After all, according to Dr. Boyce in the original pilot of Star Trek: The Original Series, "A man will tell his bartender things he would never tell his doctor."
Star Trek: Lower Decks on the Convention Circuit
For my final question, I asked Mike how he thought the Lower Decks crew would do at a Star Trek convention. He had some good thoughts on the matter.
"I think they would be geeking out at all of the Star Trek legacy royalty that's there. I think that they would be buying…Tribble earrings. I think that the Lower Decks crew are probably bigger fans than many fans of Star Trek because, for them, it's real. So it's like, they're not really fans, they're history buffs. It's like getting to go and be among all of these people that know as much as they do about everything. I think that they would love it. Plus there are a lot of bars at these conventions, which, you know Mariner…
I couldn't agree more, and now I want to have a drink with Mariner.
Final Thoughts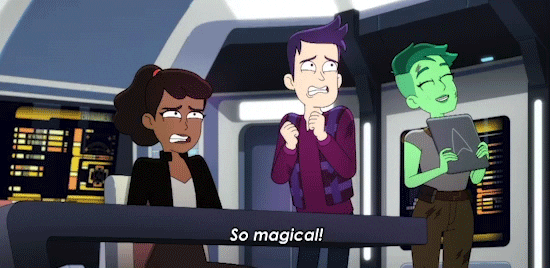 It was such a treat to speak with Mike. He is living the fanboy dream and I'm so glad that he gets to take Star Trek into all these places we've never been before. Thanks so much to the good folks at Paramount for setting up the interview. Also, big thanks to Mike McMahan for taking time out of his busy schedule to chat all things Lower Decks and Star Trek with me. I hope we get to speak again soon, be that online or at a con!
New episodes of Star Trek: Lower Decks stream Thursdays on Paramount+.
What did you think of Mike's answers? Leave me a comment and let's talk Trek.