It feels like The 100 continues to hit us left and right with 'feels' they have no plan to stop. Last week they delivered a swift upper cut of pain by killing Commander Lexa. It was a shock to all, that threw the fandom into a craze, and left us wondering what the hell was coming next.
Let's talk about it!
1. Lexa's death, hit or miss? Loved it? Hated it? (We're going for the heavy hitter first!)
Lyra
Oh god, there is no simple way to answer this question. Did I like that they killed off a lesbian character in an eerily similar way to other tv lesbians (Looking at you Tara)? No. Did I feel sad for the Clexa fandom and how minutes after they reached a semblance of happiness their OTP died a fiery death? Yes. But would I take it back? No. Everything had to happen the way it did. (Maybe not that stray bullet. Couldn't come up with something more creative? Really?) I try not to see it as a lesbian trope. Instead I try to look at it as a beloved character shaking the entire core of the Season 3 plot. Her influence has reached far and wide from the beginning. Now her lose with change things once more. And just because she is no longer there, her body gone, doesn't mean that her presence won't still be felt. (Don't forget those pesky spoilers on Tumblr that show Lexa and Clarke embracing. Lexa is still there. She's still not done protecting Clarke.)
Lizzie
Okay, this is a tricky question. I didn't hate Lexa. I didn't love Lexa. She was better this season, but I can't forget how she betrayed Clarke. Clarke is my homie. It's like when your best friend's boyfriend cheats on her? She might forgive him, but you never, ever will. That's how I felt about Lexa. I wasn't ready to forgive her. I wasn't rooting for her. I didn't wish her well. But, that doesn't mean I didn't recognize Lexa's place in the narrative, or that I didn't appreciate the portrayal, because I did. She was a strong woman, a kick-ass woman, and there are not enough of those on TV. As such, I was sad to see her die, especially in the way she did. But boy, was that well-acted and heartfelt and emotional and all of those things. It made me FEEL, in a way I never before felt about Lexa. And what it does for the story-line? Well, I can't argue with that.
Caralynn
I really liked Lexa, and loved Clarke and Lexa's dynamic, complicated relationship, so this was a huge blow. Story-wise, it opens up a ton of really interesting possibilities, so I liked that it happened in that regard. The A.I. reveal couldn't have happened without Lexa's death, I guess, and that was super cool. The actual cause of the death was not great, though. For Lexa to be killed by Titus' stray bullet meant for somebody else right after she and Clarke reconciled and had sex was beat-for-beat derivative of a little show called Buffy the Vampire Slayer. You may have heard of it? (Sarcasm.) Her death scene was lovely. ADC and Eliza Taylor killed it, I was bawling. That damn Traveler's Prayer gets me every time.
Lauren
Lexa's death felt anticlimactic to me and she deserved a warrior's death, not death by a stray bullet. Her departure from the show felt unnecessary to me, although I predicted something would happen being that Alycia is starring on another season of Fear the Walking Dead. I did mourn her loss but wish it was handled with more care and gratitude.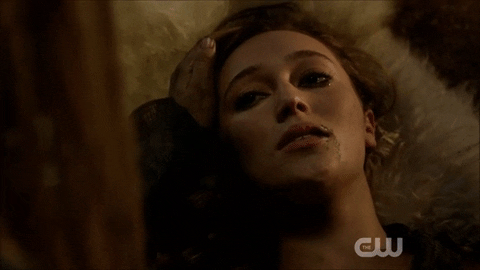 2. What does Lexa's death mean for the coalition? For Clarke? For Titus?
Lyra
For the coalition, Lexa's death means chaos and disorder. They have held themselves back from full out war because of Lexa and her orders. Now there is nothing stopping them from destroying Arkadia. (Or until the new Commander is elected.) For Clark, it means that she can't hide anymore. She's going to have to face her people and the ghosts she's been running from. No more can she hide in Polis and excuse it as trying to save her people. She needs to be on the ground and with her people if they have any chances of surviving this. And as for Titus, it means adjusting the way he thinks of the people in Arkadia for Lexa. His mistake can never be erased but what he does from now can be different for her, for his Heda.
Lizzie
For Clarke, it means that it's time to stop hiding. Lexa was a crutch, in a way, and now, that crutch is gone. Lexa, however, was also someone Clarke cared about, and she needs to accept that first, face it, and then mourn her properly. Then she needs to go back to her people, and save them from Pike. And by save them, I mean SAVE THEM. Not just Bellamy, but everyone. She's a leader. She needs to remember this. For Titus? It means that he has to let go of his anger and sadness and guilt and do the right thing, the thing Lexa would have wanted him to do, would have expected him to do. For the coalition? Insert explosion gif here.
Caralynn
PREACH, Lizzie. Clarke essentially being forced to go back to Arkadia and deal with her people is the best thing to come out of Lexa's unfortunate demise (though, clearly, her dying wasn't necessary–Clarke, being Clarke, was prepared to go back to them anyway before Lexa died). This is going to force Clarke to reckon with her trauma over the Mount Weather slaughter, face-to-face. She wanted to avoid her people to avoid the memory of what she'd done to save them, but doing that just resulted in way more bloodshed and horror. This'll be painful for Clarke but worthwhile in the end. As for Titus, I'd be shocked if Grounder law lets him get away scot-free with killing Lexa, accidental or not. He needs his comeuppance, hard.
Lauren
I doubt whomever overtakes the thrown will maintain the peace between the Grounders and the people of Arkcadia. The next Commander – with Titus support – will firmly uphold 'blood must have blood', meaning trouble in paradise for Clarke as well.
3. Indra was alone and separated from her Commander when Octavia first came upon her. She was a shadow of herself, the fierce Trikru warrior not present. Why do you think she was so 'down in the dumps'?
Lyra
The Grounders are a proud society. They value strength, honor, and a devotion to their people. Blood must have blood plays into these values and what's going on with Indra. After what happened in the Arkadia massacre she feels like she failed her people. She was left alive because she was weak, because Bellamy wouldn't even give her the honor of dying a warrior's death. In her eyes she was spared because there was something wrong with her. To top it off she was left with a constant reminder of her uselessness, the wound she acquired during the massacre. That's why she separated herself from the Commander and her Trikru brothers and sisters. She's not strong enough for them so she shouldn't deserve to walk amongst them. But she's wrong.
Bellamy didn't spare because she was weak. He spared her because he cared for her. Nameless people who he didn't recognize he could take down with no problem. But someone who had empowered his little sister and turned her into a fierce warrior? No. He's proud of his sister despite his angry remarks. He didn't kill her because a part of him knows what he's doing with Pike is wrong. And if he killed Indra he would lose the most important part of him, Octavia.
Lizzie
I think isolation does a number on you, and it certainly made Indra question herself. I love that Octavia was there to remind her, to remind everyone, really, of what they should be doing. Clarke and Bellamy might be this show's main characters, but Octavia is clearly it's soul. She got Indra to accompany her, she galvanized Clarke, and now she's going to do what she has to – even if that means fighting her brother.
Caralynn
PTSD and survivor's guilt from the events on the battlefield, when Pike and his Jerkface Crew snuck up and killed the entire army in their sleep, is my guess. Sure, Grounders are a fearsome bunch, but they're not immune to war trauma. What Pike did to Indra's army was horrific, and she's still carrying her scars from it, both physical and emotional. It would be unrealistic for her to have bounced back like everything was fine and dandy.
Lauren
Indra felt she deserved to die among her people when Pike and constituents attacked the army of Grounders. By sparing her life, Pike not only made sure that she delivered his message but made her feel as though she failed her people. Octavia's speech may be the inspiration Indra needs to keep going.
4. Octavia decided not to wait for Clarke to help her people in Arkadia. She's going to do it herself. What is she planning? How will Indra help? (Kane & Indra reunion!)
Lyra
Octavia is doing what she does best, taking her own life in her hands and devoting herself to what she believes in. She expected Clarke to help her and when it fell through she didn't just sit back. She found Indra and lit a fire under her ass to fight for their people. With Indra's help she'll be able to do something to save her new family and those in Arkadia. I don't know what that something is, because The 100 is notorious for surprising the heck out of me, but it's better than watching them destroy both sides because they simply don't understand the other. Indra is an experienced leader who is perceptive and experienced in matters of war. Combined with Octavia's fresh ideas and killer instinct, they'll change the tide of this war, or die trying. (*crossing fingers that they don't die. Especially before I can get a Kane/Indra reunion. BFF alert!)
Lizzie
I don't know what she's planning. Maybe she doesn't even have a plan. I don't care either way – I'm here for Octavia kicking ass, even if it's Bellamy's ass she has to kick. Someone has to make him see reason, and the only people that could are Octavia or Clarke. Octavia gets first crack at it.
Caralynn
I also have no idea what she's planning. She told Clarke that she needs to go back to Arkadia and help the Sky People, so it seems clear that she's not looking to lead an all-out attack on Skaikru. Maybe she's planning on a targeted Pike assassination mission, resigned to taking out anyone that stands in her way (like her brother)? If anybody can get rid of Pike, it's Octavia & Indra.
Lauren
Where there's an Octavia, there's a way. I'm certain Indra, Kane and herself will devise a plan to save their people and ensure there isn't another massacre, whether or not they're successful remains to be determined. I think she was smart not to wait for Clarke, who was clearly blinded by her feelings for Lexa. The fate on Arkadia rests firmly on Octavia's shoulders.
5. Those flashbacks to the 13th station and Becca revealed that the Grounders and Skaikru are closely linked. It also revealed that A.L.I.E. 1 has an enemy, A.L.I.E. 2, hiding in a biochip implanted in the Commander's neck. Use a gif to express how you felt after all these big reveals!
Lyra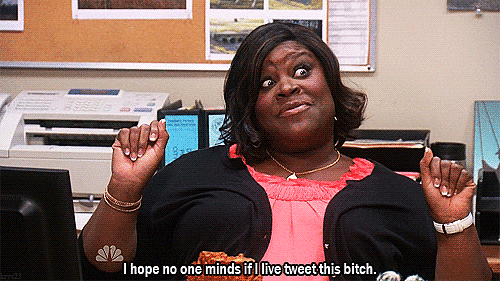 Lizzie
Caralynn
READ ALL OUR SEASON THREE REVIEWS:
READ ALL OUR SEASON THREE ROUNDTABLES: