I don't know about you guys out there but we're still feeling the pain of last week's episode of The 100 titled 'Ye Who Enter Here.' After many tissues, sweets, and alcoholic drinks the fog lifted (partially) and we got together for another roundtable. This time around we hit at the heartbreak of Mount Weather, Clarke and Lexa kneeling for each other, and that pesky Ice Queen. (We already hate the last one with the power of a thousand suns.)
Let's talk about it!
1. What was your reaction to the destruction of Mount Weather?
[lead]Lyra[/lead]
???⛰?????⚰??????
As demonstrated in my emoji reenactment I was shocked, sad, and angry. No one deserved that kind of ending. All of those people in the Mountain saw there time there as a second chance. They weren't afraid anymore. All around them was a home that reminded them of the Ark and wasn't as bad as the Grounder territory outside. There was to be no pain in it's strong walls. Taking that away from them was a coward's way for the Ice Queen to make a move against Wanheda and the coalition. And don't even get me started on Gina. She had so much potential to be great. After being stabbed her final moments were spent trying to warn her friends and save them. She's a hero. And the saddest part of it is that no one will ever know that she was brutally murdered and that she died alone before the explosion even happened.
[lead]Lizzie[/lead]
This show …no, seriously …this show. This is season finale kind of stuff, and they're doing it in episode 3. I wasn't expecting it, of course. No one was. The 100 keep doing this to us, and we still don't expect it. Because, HOW COULD WE? So, yes. I was heartbroken. For the possibilities. For Gina, who got to die a hero, but no one will ever know. For the death of innocence, once again. Because maybe innocence was lost last season, but this is the final nail in it's coffin. It's not coming back. Never again.
[lead]Lauren[/lead]
I literally stared at my TV screen blankly with my jaw on the floor. The whole time we we're thinking the Ice Nation sent someone to attack the summit when they were at Mount Weather the ENTIRE TIME. Now that's a twist!
2. With the Ice Queen finally making an appearance, what do you think is her endgame? Why does she want to destroy the coalition of clans? Why destroy Mount Weather?
[lead]Lyra[/lead]
I think the Ice Queen wants to destroy the coalition because she enjoys it. She likes the wild lifestyle that this new world has moulded her people into. She doesn't want to fall under the order of peace by Lexa, especially if it means she's not on top. Bombing Mount Weather was her way of telling everyone that she was a major contender in the upcoming war. She isn't going to sit on the sidelines and glare at Lexa anymore (hoping that if she narrows her eyes enough and concentrate Lexa's head would pop right off!) The Ice Queen has taken the next step by bombing, killing, and terrorizing people because she can. It's a warning for what's to come.
[lead]Lizzie[/lead]
Some people are just evil? She wants power, and she'll stop at nothing to get it. That doesn't mean that she's acting rashly, though, no. There's a method to her madness. This is all part of the plan to control everything. And it's episode 3, yes, but, so far, it's looking well for her.
[lead]Lauren[/lead]
She wants power and she knows she has to get rid of Lexa to gain that power. By destroying Mount Weather, she guarantees she can get all the clans – and the newly added Sky People – all in one place, not to mention give the Grounders a reason to distrust Clarke and her people since it looked like they were moving into Mount Weather.
3. Clarke kneeled before Lexa after being vehemently opposed to it in the previous episode. Why do you think she changed her mind?
[lead]Lyra[/lead]
Clarke kneeled down before Lexa because it's in her advantage. She isn't thinking about herself when she was on her knees before the Commander. She saw her people. She saw the pain they would go through if this coalition fell through and swept through the country. Her people would be seen as interlopers and would be banished and killed. That's why she changed her mind. It's not even about Clarke. She's not trying to regain a piece of herself. She's still in hiding from her feelings and what she did. And contrary to what many people believe, she didn't pledge her loyalty to Lexa out of love or understanding of her situation. She's doing what Lexa did to her, playing the field for her people. Clarke is no longer the teen we were introduced to in season one. She's a woman who has been hardened by the world and keeps fighting.
[lead]Lizzie[/lead]
Clarke's a pragmatic. She doesn't like Lexa, and she isn't going to forgive her or rekindle their romance so easily, but Clarke is a leader who understands that her feelings can't get in the way of what needs to be done. And she's doing what needs to be done.
[lead]Lauren[/lead]
Survival of her people. The only reason Clarke EVER changes her mind. Whether you agree or not, Clarke is always trying to do what she thinks is best for her people.
4. Lexa never shows a speck of weakness in front of her people. She sees it as a liability. Oddly enough she breaks her own rule and kneels before Clarke. Why did she do it? What makes Clarke different?
[lead]Lyra[/lead]
Lexa bowed before Clarke because she feels guilt for what she forced Clarke to do at Mount Weather. She liked Clarke the way she was and didn't want to break her fiery spirit. She also enjoyed the attention our Wanheda gifted her with. The moments weren't many but they were enough to endear her to the commander. I also think she bowed before Clarke because she reminds her of something that she can't have, a simple life with someone she cares about. No war, no pain, just love. All of this pains her and she thinks that she can grab a bit of that with Clarke.
Now it isn't all just Lexa feeling bad for what she did. The Commander hasn't gotten this far because of that. Lexa also bowed down to Clarke because for the coalition to survive she needs to have the most powerful person by her side. She can't let Clarke fall into the hands of the Ice Nation and destroy the 'peace' she has garnered. So why not pledge fealty to the person that loathes in an effort to calm them down and draw them to your side? It's a tactic to placate the thing she wants the most so victory is one step closer. Let's just hope that her 'concern' is not a lie because we all know how far Lexa is willing to go with a lie.
[lead]Lizzie[/lead]
I think it's 100% Lexa doing what needs to be done, just as Clarke. I think Lexa does care about Clarke, but she's never let that fact cloud her judgment, and she isn't about to start now. Lexa is doing what her people need. Period.
[lead]Lauren[/lead]
Lexa clearly has very strong feelings for Clarke. I don't see it as her being weak but being vulnerable and showing Clarke that she will do whatever is necessary to get back in her good graces.
5. Despite being injured Bellamy booked it to Polis at the mere possibility of Clarke being in danger. When they finally came face to face Clarke brushed off Bellamy's concern. After looking for her so desperately where do they go from now?
[lead]Lyra[/lead]
They're heading down two different paths towards the same goal. They both want to save their people. Clarke has decided that the Sky People will be part of Lexa's coalition without checking with the rest of her people. She has unofficially declared herself the leader of Arkadia & Co. But she's not going anywhere at the moment. She's going to stay at Polis and act as an ambassador looking out for her people's best interests. But she isn't going to be out on the field like Bellamy is. While Clarke is up there surrounded by Grounders, Bellamy will make it back to his people and see what the ground situation is actually like. He'll see that they can't wait for Polis or Clarke to act in their best interests. They need to do it themselves and on their own terms before they are destroyed by the Ice Nation soldiers making their way across the land.
Clarke and Bellamy will still care for each other (you can't break a bond like that.) But I think they'll see what the other is doing to protect their people as a mistake and betrayal. They'll fight harder to protect their home, inadvertently making things worse and setting them down a dangerous path where they aren't united. They'll fragment.
[lead]Lizzie[/lead]
They're going their separate ways, obviously, but they're doing it because they care, if that makes any sense. Bellamy and Clarke are not the type to let their feelings push them in a direction they don't agree with. Clarke is going to do what she thinks is best. So will Bellamy. And right now, from their two different perspectives, their people need two completely different things. So that's what they'll do. And yes, that might fracture them, but it won't break them. This is not Clarke and Lexa we're talking about, after all. Bellamy and Clarke love each other, yes, but they're not blinded by the possibility of romance, at least not yet. And that's why, even if they're broken now, they'll be back together and whole at some point in the season.
[lead]Lauren[/lead]
Bellamy's life has been turned upside down due to losing his beautiful girlfriend Gina to the attack on Mount Weather and losing his faith in Clarke after pledging her loyalty to Lexa. I definitely see these two being at odds and with tensions being at an all time high, Bellamy and Clarke may find themselves on opposite sides.
6. Now something a little fun. You've just entered Polis. There are tons of different foods, people, and a wide culture just waiting for you to explore. What's your reaction? Please use a gif to answer.
[lead]Lyra[/lead]
Well, after looking at Lincoln I'm hoping the other Grounders are just as beautiful…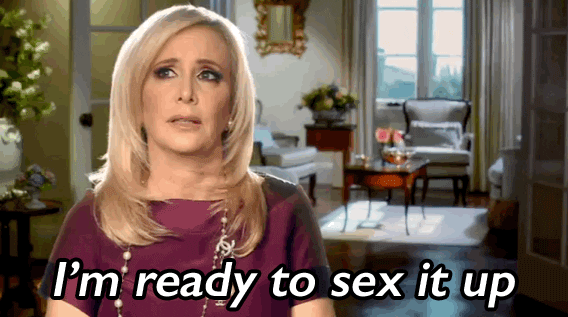 [lead]Lizzie[/lead]
[lead]Lauren[/lead]
What were your thoughts on 'Ye Who Enter Here'? Leave us your comments in the section below to keep the discussion going. Until next week!
The 100 airs Thursday @ 9/8c on The CW.
READ ALL OUR SEASON THREE REVIEWS:
READ ALL OUR SEASON THREE ROUNDTABLES: