Every week, Fangirlish writers (and sometimes guests) sit down to discuss new episodes of The 100. We share our thoughts, feelings, and speculations on everything and anything in what we like to call Fangirlish Roundtables.
Today, we're breaking down episode 3×12 of The 100, "Demons," where we discuss our thoughts on the Mountain Man's return, Sinclair's death, and Lincoln's brief return. Let's jump right in!
1. The Mountain Man that Clarke spared, came back for revenge in Demons. Was this the best time for a filler episode? Or was everything that happened essential for our delinquents?
Lyra
It wasn't the best time for a filler episode. Don't we have a huge A.L.I.E. problem waiting? Where's the other nightblood Luna? What about the clans in Polis? And the Grounders near by?I understand that they opened the chip but…it was wasted time adding the last Mountain Man. They should've hit the road and encountered the City of Light drones. Now that would have been better and helped with the dreadful pacing they've been experiencing this season. After one event they're all for working together for the greater good? Nope. Not believable at all. They've done unforgivable things in the name of survival. It's going to take them more than one episode.
Lizzie
It's never the best time for a filler episode on a show like this, but if you're gonna do one, do it at the beginning of the season. Or, better yet, don't do one and use the time to better explain Bellamy's horribly rushed storyline, or to make me connect with Clarke, or to give Lincoln more than he got at the end, or to make Octavia even more of a badass or ….or …
There were about 25 things they could have done with the time better than use it in …whatever this was. The 100 has been many things this season, most of them not so good, but it has never been …well, boring. And in this episode, it was. So, add another problem to their laundry list of issues. At this point, I'm not even sure why I'm watching.
Caralynn
It was a little bit oddly placed but I think it was actually important to tie up the Emerson loose end. I really thought that it would happen in season four, though. Having Clarke let him go only for him to turn up again so soon after was a little silly. It didn't feel like too much of a filler episode to me because we did see bits and pieces of what was happening over in Polis, and that led to one big development: Ontari becoming an ALIE follower. So it wasn't all a waste. I might be in the minority here, but I actually liked this episode a lot. *covers face with hands*
2. Sinclair's death was unexpectedly heartbreaking. Did you agree with the choice of killing off his character? And how will this affect Raven?
Lyra
Shock value only works if you use it every once in awhile. You know…to make it a shock to the senses? Once you start killing someone every…single…damn…episode…you start losing your audience's interest. Viewers are going to spend less time investing in characters if they know there's a chance that they'll be killed the following week.
Now onto Sinclair. His death was a punch in the face, followed by a kick in the crotch. How did I miss this relationship between Sinclair and Raven? Where was it hiding? Sinclair still had so much to give to The 100. His technical expertise was of great value and his parental love for Raven could have opened up doors for both of them. Instead we're left with tears in our eyes because all he cared for was Raven's safety. In his last moments he was selfless, caring, and braver than any of them. It was a missed opportunity that we'll never get back. A part of me fears that Sinclair's death was a ploy to break down Raven even more. She's already down in the dumps. It's time to rebuild and not destroy her till she has no purpose or love in her life. It was a step in the wrong direction for, let's repeat it again, shock value.
Lizzie
I'm tired of The 100 killing off people in a desperate attempt to, I don't know, be Game of Thrones? I get death for shock value, I watch GOT too, but GOT has a much better grasp of when to do shock, when to advance the plot, and when not to kill all the characters we care about. You might think this is a joke, but it does. We're still watching, after all? The 100 this season has been a mess – killing interesting characters, making the ones we used to care about so unrecognizable that we can't root for them. Either they stop killing people for sport, or they give me back someone to care for. Or I won't be watching Season 4.
Caralynn
Why do they keep killing people?! Damn, this season has been brutal. Sinclair's death was expectedly (is that a word?) brutal for me, actually. I've always loved his lowkey father-daughter type relationship with Raven. POOR RAVEN. She has seriously lost everyone that she's considered her family, one after the other. First Finn, now Sinclair. It's awful. I truly don't understand why anyone had to die in this episode, least of all Sinclair. And to be felled by lame-o crazyeyes Emerson? Awful. I was straight-up sobbing as Sinclair was desperately warning Raven to stay in the rover. Ugh. So, so sad. I hope Raven grieves for Sinclair at least a bit. She seemed to be really sad for a minute and then over it pretty quickly.
3. Octavia got an opportunity to retrieve a piece of Lincoln (his journal & clothes) and say goodbye to his body. How will this influence her recovery? Is she ready to forgive Bellamy?
Lyra
Octavia got an opportunity to have closure. It's not going to fix anything with Bellamy and it's not going to make her feel closer to a specific group of people. But it will give her an opportunity to remember Lincoln for the good he did in her life instead of the pain of his passing. His memory will anchor her as she tries to find her place in the world. It's bittersweet that even in death, Lincoln will help her survive the dangerous world around her.
Lizzie
Not anywhere near ready, but that's okay. That's understandable. I don't want her to rush into forgiving Bellamy, because when she does forgive him, I want it to be for real. I don't want her to be changing her mind, and this will happen if she makes a decision she's not ready for. I do, however, think that Lincoln's belongings give her a sense of closure. We put a lot of significance of things, even when we know they mean nothing.
Caralynn
Yeah, I agree with everyone — there's no way Octavia is willing to forgive Bellamy so easily. What Bellamy did was massively screwed up and it did cost Lincoln his life. The path to forgiveness and amends between the Blake siblings is going to be a long and arduous one. At least it better be, or else I'm calling bullshit on that storyline. As far as Octavia's recovery, I think this was an important step in that process, but again, she has a long way to go in grieving Lincoln. I do think that laying him to rest helped to crystallize her grief and fuel her anger and determination to deal with ALIE.
4. If you had a chance to pick someone else to die in this episode, who would it be and why?
Lyra
HARPER! *clears throat* Sorry, did I yell that out? Harper hasn't been doing much besides sitting off to the side and…well surviving by being in the limelight. She's a plus one along with Miller and Bryan. Her death would've hit the survivors but not crippled them. Or they could've not killed anyone at all. That's a novel idea.
Lizzie: I'm going to plead the fifth. Can I? Because, at this point, anyone but Raven and Octavia is pretty much fair game to me. That's how much I care right now about people I used to love. And that's on you, show. That's on you.
Caralynn
I don't know, this is a tough question. Like I've already said, I don't really get why a death was necessary at all in this episode. Was it useful in showing that Emerson was seriously dangerous and meant business? We kind of already knew that, so no, not really. I wouldn't want to lose Bryan or Miller because they are adorable and LGBT representation shouldn't be cut down any more. I wouldn't want to lose any of the mains either, despite some of them being kind of ugh this season. I guess we could have stood to lose Harper, but I actually really like Harper and want her to stick around and become more prominent/useful.
5. You're making your way down the halls of Arkadia when you hear creepy music starting to play. How would you react? Would you follow Clarke & Monty? Use a gif to answer. (Please include the link!) <3
Lyra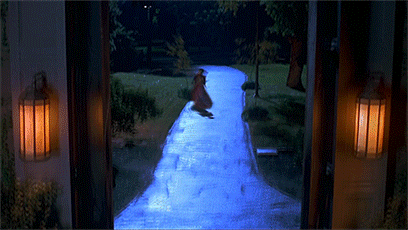 Lizzie
Caralynn
The 100 airs Thursdays @ 9/8c on The CW.
READ ALL OUR SEASON THREE REVIEWS:
READ ALL OUR SEASON THREE ROUNDTABLES: